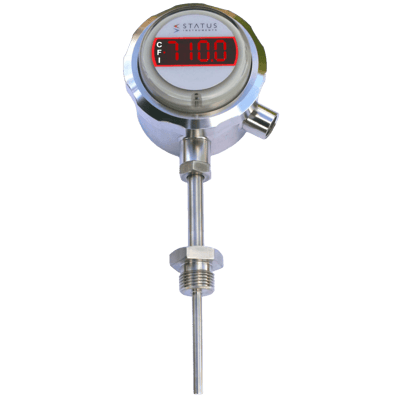 Images are representations only.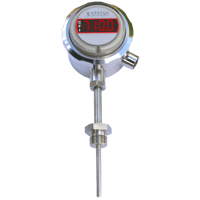 The SEM710 is the first of a new generation head mounted temperature transmitter with display feature, from status instruments. 

It has been designed to accept most common temperature sensor inputs and provide the user with a standard two wire (4 to 20) mA output signal. 

Isolation is provided between input and output and all temperature ranges are linear to temperature. 

The addition of a display provides the user with instant information of the loop condition at the point of measurement. 

It comes in either our SCH4 ABS plastic connector head or our new SCH15 stainless steel connector head.
Specifications
Accuracy
± 0.1° C (± 0.18° F) / ± 0.05% of Reading
± 0.5° C (± 0.9° F) ± 0.1% of Full Scale Range
0.1% of Full Scale Range ± 0.5° C (± 0.9° F)
Calibration Accuracy: ± 5 µA
Loop Ripple: 0.03% of Full Scale Range
Ambient Temperature Range
-10° to 50° C (14° to 122° F)
Approvals & Certifications
Circuit Protection
Over-voltage
Reverse Connection
Enclosure, Body Material
ABS Plastic
Stainless Steel
Environmental Protection
IP76 when Used with SCH4 Head
Humidity
Ambient Humidity: 10 to 95% Relative Humidity, Non-Condensing
Isolation
Input to Output Tested at 500 Vdc
Operating Temperature
Ambient Operating: -40° to 85° C (-40° to 185° F)
Output
2-Wire Current Sink
Full Range: 3.8-24 mA
Signal Range: 4-20 mA
Power Supply Effect
Supply Ripple Rejection: <± 5 µA Error at 1 V RMS 50 Hz Ripple
Resolution
Display Resolution: 0.1° C
Response Time
< 500 milliseconds to Reach 95% of Final Value
Sensitivity
Supply Sensitivity: 0.05 µA / °C
Sensor, Probe Type
E Thermocouple
J Thermocouple
K Thermocouple
N Thermocouple
P Thermocouple
R Thermocouple
S Thermocouple
Thermocouples
T Thermocouple
Stability
± 0.005% of Full Scale Range / °C
± 0.01% of Full Scale Range / °C
± 5 μA / °C
Storage Temperature
Ambient Storage: -40° to 85° C (-40° to 185° F)
Supply Voltage
15-30 Vdc
24 V Nominal Giving, Maximum
Temperature Effect
Lead Effect: 0.015° C/Ohm
Temperature Range
Cold Junction Range: -20° to 70° C (-4° to 158° F)
Sensor: -200° to 1,760° C (-328° to 3,200° F)
Turn-On Time
Start Up Time: < 3 seconds