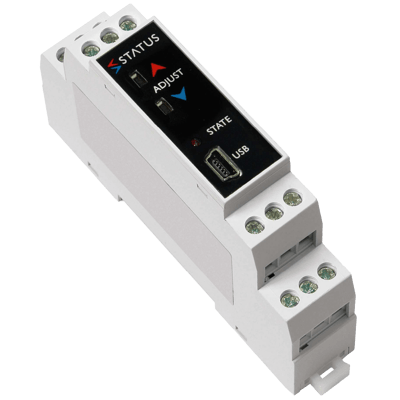 Images are representations only.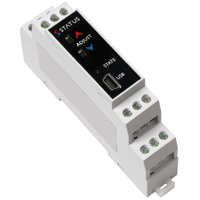 The SEM1630 is the new generation DIN Rail Mounted Trip Amplifier from Status Instruments. 

It has been designed to accept most common process and temperature sensor inputs and provide the user with a dual trip output. 

Isolation is provided on all three ports. All temperature ranges are linear to temperature. 

Designed for ease of use, our latest USB interface is fitted for quick and easy configuration. Just connect a standard USB cable between the SEM1630 and your PC. 

Using our free configuration software, your PC will automatically upload the existing configuration data and guide you through any changes you wish to make.
Specifications
Accuracy
± 0.008 mA - Input Typical: mA
± 0.04 mV - Input Typical: mV
± 0.1° C (± 0.2° F) + (± 0.05% of Reading) - Input Typical: Pt100
± 0.5° C (± 0.9° F) ± 0.1% of Full Scale Range, Only over the Range 800° to 1,600° C (1,472° to 2,912° F) - Input Typical: R, S
0.1% of Full Scale Range ± 0.5° C (± 0.9° F) - Input Typical: K, J, E, N
0.2% of Full Scale Range ± 0.5° C (± 0.9° F) - Input Typical: T
Ambient Temperature Range
-10° to 50° C (14° to 122° F)
Approvals & Certifications
Current
± 100 mA - Maximum
100 mA - Maximum
Electrical Rating
250 Vac at 1 A
30 Vdc at 1 A
Humidity
10 to 95% Relative Humidity, Non-Condensing
Input Impedance
1 MegaOhm - Not Including 0.2 µA Open Circuit Detect Bias Current Effect
2.7 ohms - Input Typical: mA
Materials of Construction
Polyamide 6.6 Self Extinguishing
Operating Temperature
-20° to 70° C (-4° to 158° F)
Output Format
Dual Form C Relay Contact
Resistance Effect
Lead Effect: 0.015° C/Ohms
Response Time
< 500 milliseconds to Reach 95% of Final Value
Sensor, Probe Type
E Thermocouple
J Thermocouple
K Thermocouple
N Thermocouple
Pt100
R Thermocouple
S Thermocouple
T Thermocouple
Stability
± 0.005% of Full Scale Range / °C
± 0.01% of Full Scale Range / °C
Storage Temperature
-40° to 85° C (-40° to 185° F)
Supply Voltage
24 Vdc ± 5% @ 40 mA - Maximum
Temperature Effect
0.015° C/Ohms - Lead Effect
Temperature Range
-20° to 70° C (-4° to 158° F) - Cold Junction
-200° to 1,760° C (-328° to 3,200° F)
Turn-On Time
Start Up Time < 3 seconds