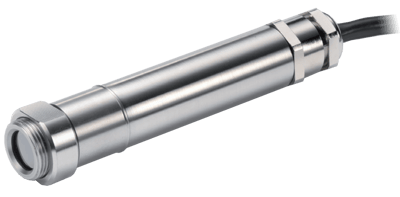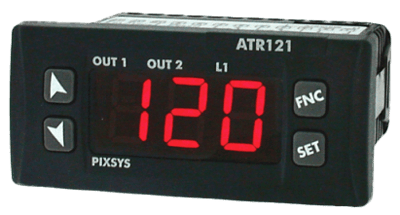 Images are representations only.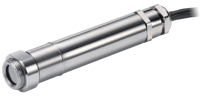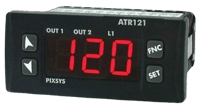 The Calex Compact Series is a range of high quality, low cost non-contact sensors that measure the temperature of inaccessible or moving objects and materials. 

They measure temperatures from -20° to 500° C, accurately and consistently, with an outstanding response time of 240 Milliseconds. 

All models conform to industrial EMC standards.

The PyroCouple is a simple infrared temperature sensor with a choice of Analog outputs. 

No complicated setup is required - just connect a temperature indicator and power supply, and instantly start taking measurements.
Features
Suitable for non-contact temperature measurement on most non-reflective non-metal surfaces, such as paper, thick plastics, asphalt, painted surfaces, food, rubber and organic materials, among many others
Choice of Analog outputs for measured temperature: Two-wire 4 to 20 mA, Four-wire 0-50 mV, Four-wire Type K, J or T thermocouple
Additional 4 to 20 mA sensor body temperature output on the power supply loop of four-wire models: indicates the air temperature around the sensor and helps prevent overheating or overcooling
Specifications
Accuracy
± 1% of Reading or ± 1° C (± 1.8° F) whichever is greater
Ambient Temperature Range
0° to 70° C (32° to 158° F)
Approvals & Certifications
Current
20 mA - Maximum
3.2 mA at 24 Vdc
Humidity
95% Relative Humidity, Non-Condensing, Maximum
Loop Impedance
900 ohms (4-20 mA Output) - Maximum
Mounting
M16 x 1 mm Pitch - Thread Mounting
Output
0-50 mV - Target Temperature Output
2-Wire
4-20 mA - Target & Sensor Temperature Output
4-Wire
Output Impedence
56 ohms (Voltage/Thermocouple Output)
Repeatability
± 0.5% of Reading or ± 0.5° C (± 0.9° F) whichever is greater
Response Time
240 milliseconds (90% Response)
Sensor, Probe Type
J Thermocouple
K Thermocouple
T Thermocouple
Supply Voltage
24 Vdc - Typical
28 Vdc - Maximum
6 Vdc - Minimum Sensor Voltage
Temperature Range
-20° to 500° C (-4° to 932° F)