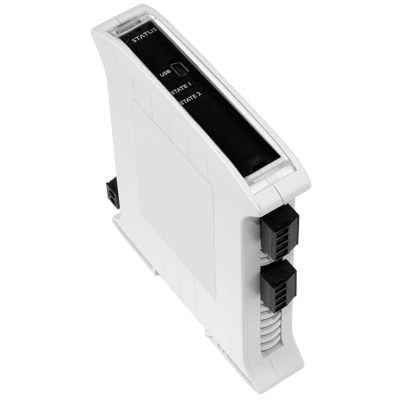 Images are representations only.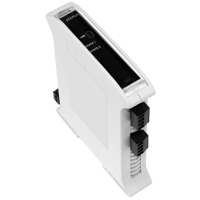 SEM1720 is a dual channel signal conditioner designed to accept RTD, Thermocouple or Potentiometer sensors and provide isolated, industrial process output signals in mA or Volts. 

Each output channel may be linked to either input sensor or to a maths function of both sensor signals. 

This powerful feature allows the device to operate in a number of different modes. 

SEM1720 is configured using the free USB SpeedLink software that allows the user to configure the device without requiring calibration equipment. 

Maths functions on each channel can be set up using the software as well as a 22 segment profile tool. Input output simulation tools for diagnostic purposes are also available. Thanks
Specifications
Accuracy
± 0.05% - Slide Wire for Input (Channels 1 & 2)
± 10 µV 1 Reading/second - Thermocouple Input: mV
± 5 mV - Voltage Range for Output (Channels 1 & 2)
1 Reading/second ± 0.15° C (± 0.27° F) + (0.05% of Full Scale Reading) - RTD Input
1 Reading/second ± 0.5° C (± 0.9° F) + (0.1% of Full Scale Reading) - Thermocouple Input: K, J, E, N, T, R, S, L, B, U, C, D, G
Cold Junction: -20 to 70° C ± 0.5° C, Tracking ± 0.05° C / °C
Connection Style
Screw Terminal - Output Connection
Current
0.5 A - Protection
0-20 mA - Full Range
0 to 23.1 mA to Maximum
Humidity
10 to 90% Relative Humidity, Non-Condensing
Isolation
3,750 Vdc - Galvanic Isolation Test Voltage - Input Output Ports
4,000 Vdc - Galvanic Isolation Test Voltage - Supply to Input/Output
Load
Voltage Load: Minimum 1 KiloOhm
Operating Temperature
-20° to 70° C (-4° to 158° F)
Operating Voltages
253 Vac - Working Voltage
Output
0-10 V - Full Range
0 to 10.1 V - Maximum
Power
3 W at Full Output Current
Power Supply Effect
0.2 µA/V (Sink Mode) - Loop Voltage Effect
Resistance
0 to 1 KiloOhms Minimum
0 to 100 KiloOhms Pot, Maximum
RTD Type
Cu100
Cu53 (GOST)
Ni100 (DIN)
Ni120 (Nickel A)
Pt100 (IEC, IPTS-68, ITS-90)
Sensor, Probe Type
B Thermocouple
C(W5) Thermocouple
D(W3) Thermocouple
E Thermocouple
G(W) Thermocouple
J Thermocouple
K Thermocouple
L Thermocouple
N Thermocouple
R Thermocouple
S Thermocouple
T Thermocouple
U Thermocouple
Stability
± 0.015% of Full Scale Reading / °C - RTD Input
± 0.05% of Full Scale Reading / °C - Thermocouple Input: K, J, E, C(W5), D(W3), G(W), mV
± 0.08% of Full Scale Reading / °C - Thermocouple Input: N, L, U
± 0.10% of Full Scale Reading / °C - Thermocouple Input: R, S, B
± 0.15% of Full Scale Reading / °C - Thermocouple Input: T
± 1 μV / °C - Voltage Range for Output (Channels 1 & 2)
± 5 μA / °C - Current Range for Output (Channels 1 & 2)
Storage Temperature
-40° to 85° C (-40° to 185° F)
Supply Voltage
10-30 Vdc - Output Current Sink
20-240 Vac at 50/60 Hz
20-240 Vdc
250 Vac - Maximum
Temperature Range
-20° to 70° C (-4° to 158° F) ± 0.5° C (0.9° F) - Cold Junction
-200° to 2,300° C (-328° to 4,172° F)
Turn-On Time
4 seconds - Start Up Time
Update Time
1 Minute - Warm-Up Time
200 milliseconds
Zero Offset
± 10° C (± 18° F)- Sensor Offset