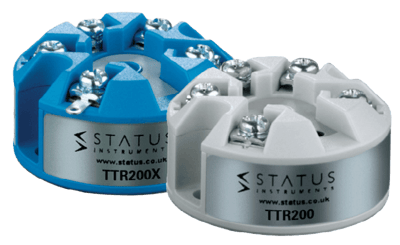 Images are representations only.
The TTR200 'smart' transmitter is designed for use with RTD or Slidewire sensors. 

The flexible design allows the use of any resistive sensor within the range of (10 to 10,500) Ohms. Pt100, Pt500, Pt1000, Ni or Cu sensors as well as slide wire sensors up to 100 KiloOhms can be accommodated. 

Other sensor characteristics or your own 22 point linearisation characteristic (for slidewire or linear resistance) can be downloaded into the product enabling you to adapt it exactly to your application. 

The TTR220X is approved to ATEX and IECEx standards allowing for use in hazardous area applications.
Specifications
Accuracy
(mA Output/2,000) or 5 µA whichever is greater
0.2° C (0.36° F) ± 0.05% of Reading + Sensor
Slide Wire: 0.1%
Ambient Temperature Range
Configuration: 10° to 30° C (50° to 86° F)
Approvals & Certifications
ATEX
CE - BS EN 61326
IECEx
Burn-Out
Downscale - 3.8 mA
Up Scale - 21.5 mA
Communication
Baud Rate: 1,200 bit/sec
USB 2.0
Current
Excitation Current: < 200 UA
Electrical Connectors
Screw Terminals 2.5 mm, Maximum
Humidity
10 to 90% Relative Humidity, Non-Condensing
Mounting
Head Mounted Terminal Block
Operating Temperature
Operating Ambient Temperature: -40° to 85° C (-40° to 185° F)
Output
2-Wire Current Loop
4-20 mA
Loop Effect: ± 0.2 µA/V
Power Supply
< 1 W Full Power
Loop Supply: 10-30 Vdc
Resistance
10 to 10,500 ohms
Lead Effect: 20 ohms Per Leg
Response Time
500 milliseconds
Start Up Time: 5 seconds
RTD Type
Cu100
Cu1000
Cu53
Library Potentiometer
Ni100
Ni1000
Ni120
Pt100
Pt1000
Pt500
Sensor, Probe Type
Cu1000
Cu53
Ni100 DIN 0.00618
Ni1000
Ni507.5
Pt100
Pt1000
Pt500
RTD
Storage Temperature
Storage Ambient Temperature: -50° to 85° C (-58° to 185° F)
Temperature Effect
Lead Effect: 0.002° C/Ohm
Update Time
160 milliseconds
Warm-Up: 2 minutes