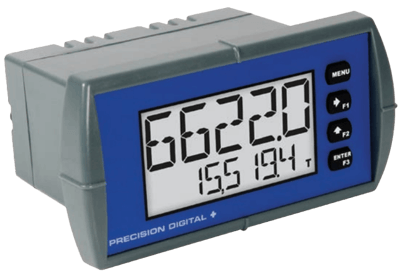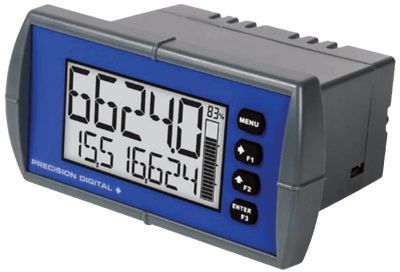 Images are representations only.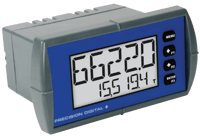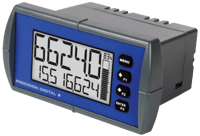 The Loop Leader PD6622 and PD6624 are loop-powered, 1/8 DIN flow rate/totalizers designed for demanding process control applications. 

The four front panel buttons make setup and programming of the meter simple and intuitive. 

A dual-line display featuring five digits on the top line and eight digits on the bottom line, preprogrammed engineering units, and optional bar graph display (PD6624) provide a clear and attractive presentation of the process. 

The units of measure can be changed as needed (e.g. gal/second to liters/second) without the need to re-scale the meter.
Features
Loop-powered rate/totalizer
Loop-powered backlight with red backlight for alarm conditions
Display rate and total simultaneously
Total display includes commas for more intuitive readings
1.5 Volt drop (4.5 Volt drop with backlight)
IP65 front
Operating temperature range: -40° to 75° C (-40° to 167° F)
Five digit top line
Alphanumeric tag names
Total, grand total, or non-resettable grand total
Up to 13-digit total and grand total
Dual line display
1/8 DIN shallow depth case
Optional loop-powered solid state relays
Optional 4-20 mA Analog output
Open collector output standard
Specifications
Accuracy
4-20 mA Transmitter Output: ± 0.05% of Full Scale ± 0.001 mA
Process Input (Square Root & Programmable Exponent): 10 to 100% of Full Scale
Process Input: ± 0.02% of Span ± 1 Count
Alarm
Open Collector Output, Solid State Relay (Alarm Deadband): 0 to 100% of Full Scale, User Programmable
Open Collector Output, Solid State Rely: User Programmable for High/Low Alarm
Calibration
4-20 mA Transmitter Output: Factory Calibrated 4-20 mA
Recalibration is Recommended at least Every 12 Months
Delay Time
Open Collector Output, Solid State Relay (On & Off Time Delay): 0 to 9,999 seconds
Display
14-Segment Alphanumeric Characters
Bargraph
Bottom: 0.4" (10.2 mm)
Bottom: 8-Digits (-9,999,999 to 99,999,999)
Process Input (Display Range): -9,999 to 99,999 on Top Line
Process Input (Display Range): -9,999,999 to 99,999,999 on Bottom Line
Top: 0.7" (17.8 mm)
Top: 5-Digits (-9,999 to 99,999)
Electrical Connectors
Removable Screw Terminals Accept 12 to 22 AWG Wire
Electrical Contacts
DI Digital Input Contacts: Normally Open
Electrical Rating
Open Collector Output: Two NPN, Isolated Open Collector, 30 Vdc at 90 mA - Maximum
Solid State Relay (Resistive Load): 250 Vac/dc at 1 A
Enclosure, Body Material
High Impact Plastic
Noryl Polyphenylene Ether
Polystyrene Blend (PPE PS) Resin
Stainless Steel
Steel
Frequency
Open Collector Output (Pulse Output Frequency): 250 Hz, Maximum
Function
Process Input: Linear
Process Input: Programmable Exponent
Process Input: Square Root
Humidity
0 to 90% Relative Humidity, Non-Condensing
Input
DI Digital Input Contact: 2.1 Vdc
DI Digital Input Logic High: 2.4-30 Vdc, Maximum
DI Digital Input Logic Low: 0-0.9 Vdc
Process Input (Scaling & Display Range): 4-20 mA
Process Input Overload: over Current Protection to 1 A, Maximum
Isolation
4-20 mA Transmitter Output: 500 V
K-Factor
Open Collector Output (Pulse Output Factor): 0.000001 to 999,999.9
Load
Solid State Relay (Inductive Load): 1/10 hp at 125/250 Vac/dc
Loop Resistance
4-20 mA Transmitter Output: 10 to 750 ohms at 24 Vdc
4-20 mA Transmitter Output: 100 to 1,100 ohms at 30 Vdc
Materials of Construction
Buttons: Silicone Rubber
Faceplate: Lexan Polycarbonate (PC) Film
Mounting
1/8" DIN Panel
Two Panel Mount Bracket
Operating Temperature
Environmental: -40° to 75° C (-40° to 167° F)
Output
4-20 mA Transmitter Output (Disable): High Impedance State < 1 mA
4-20 mA Transmitter Output (Scaling Range): 1-23 mA
Analog Output: 4-20 mA
Output Noise
Noise Filter Bypass: 0.1 to 99.9% of Full Scale
Noise Filter: 1 to 16 seconds
Power Supply
4-20 mA Transmitter Output (External Loop Power Supply): 7-30 Vdc, Maximum
Pulse Range
Open Collector Output (Pulse Width): 2 milliseconds, 50% Duty Cycle
Range
Process Input (Scaling Range): -999,999.9 to 999,999.9
Resistance
Process Input (Equivalent Resistance with Backlight Off): 75 ohms at 20 mA
Process Input (Equivalent Resistance with Backlight On): 225 ohms at 20 mA
Storage Temperature
-40° to 85° C (-40° to 185° F)
Thermal Drift
4-20 mA Transmitter Output: 0.5 µA / °C, Maximum
Process Input: 25 ppm / °C from -40° to 75° C (-40° to 167° F) Ambient
Torque
Tightening Torque (Mounting Screws): 0.9 Nm (8 In/Lbs), Maximum
Tightening Torque (Screw Terminal Connectors): 0.5 Nm (4.5 In/Lbs)
Update Time
Display Update Rate [Ambient >-10° C (14° F)]: 1 Update / 1 second
Display Update Rate [Ambient >-20° C (-4° F)]: 1 Update / 2 seconds
Display Update Rate [Ambient -40° C (-40° F)]: 1 Update / 10 seconds
Voltage Drop
Process Input (with Backlight): 4.5 V, Maximum
Process Input (without Backlight): 1.5 V, Maximum