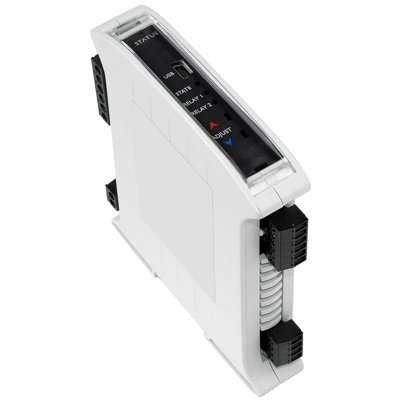 Images are representations only.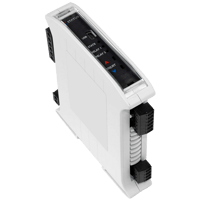 The SEM1700 is a new generation DIN rail mounted universal signal conditioner from Status Instruments. 

It has been designed to accept most common process and temperature sensor inputs and provide the user with a programmable current or voltage output signal plus dual relays with a programmable delay function. 

Isolation is provided between input, outputs and supply. 

All temperature ranges are linear to temperature. 

Both input and output loop excitation is provided as well as a fully universal power supply.
Specifications
Accuracy
± 0.04% + (0.1% of Full Scale Range) - Process Inputs (1 Reading/second) at 20° C (68° F)
± 0.1% + (0.1% of Full Scale Range) - Process Inputs (4 Readings/second) at 20° C (68° F)
± 0.15° C (± 0.27° F) + (0.05% of Full Scale Range) - RTD (1 Reading/second)
± 0.2% + (0.1% of Full Scale Range) - Process Inputs (10 Readings/second) at 20° C (68° F)
± 0.5° C (± 0.9° F) + (0.1% of Full Scale Range) - Thermocouples (1 Reading/second), RTD (4 Readings/second)
± 1° C (± 1.8° F) + (0.1% of Full Scale Range) - Thermocouples (4 Readings/second), RTD (10 Readings/second)
± 2° C (± 3.6° F) + (0.1% of Full Scale Range) - Thermocouples (10 Readings/second)
Cold Junction Accuracy: ± 0.5° C (± 0.9° F)
Cold Junction Tracking: ± 0.05° C (± 0.09° F)
Approvals & Certifications
CE Tested to BS EN 61326, BS EN 61010_1
GOST
IEC
Calibration
Current Output: ± 5 µA
Voltage Output: ± 5 mV
Current
Maximum
RTD Excitation Current: < 1 mA
Damping Adjustment
0 to 250 seconds, Programmable Rise & Fall for a 0-10 V Swing (Voltage Output) / 0-20 mA (Current Output)
Delay Time
0 to 250 seconds, Programmable On/Off for Each Relay
Electrical Protection
Overvoltage
Reverse Polarity
Electrical Rating
240 Vac Rms at 1 A, Resistive Load
30 Vdc at 1 A, Resistive Load
Humidity
10 to 95% Relative Humidity, Non-Condensing
Input
Process Input: ± 25 mA - Maximum
Process Input: 1 V - Range: ± 1 V, Maximum
Process Input: 10 V - Range: ± 10 V, Maximum
Process Input: 200 mV - Range: ± 200 mV, Maximum
Process Input: 50 mV - Range: ± 50 mV, Maximum
Input Impedance
1 MegaOhm - Voltage Input Impedance & for Thermocouple
20 ohms - Current Input Impedance
Isolation
Galvanic Isolation: 3,750 V to Supply & Relays
Galvanic Isolation: 500 V to Input/Output
Load
Minimum: 10 KiloOhms
Sink Mode Loop Load: 600 ohms at 24 V, Maximum
Source Mode Loop Load: 550 ohms, Maximum
Operating Temperature
-20° to 70° C (-4° to 158° F)
Output
0-10 V (Voltage)
0-20 mA (Current)
4-20 mA (Current)
Range
Process Input: ± 25 mA - Maximum
Process Input: ± 50 mV-± 10 V, Maximum
Resolution
1 Readings/second (16-bits)
Response Time
< 500 milliseconds to Reach 95% of Final Value
RTD Type
Cu100
Cu53
Ni100
Ni120
Pt100
Sensitivity
Supply Sensitivity: Supply Ripple Rejection <± 5 µA Error at 1 V Rms 50 Hz Ripple
Sensor, Probe Type
B Thermocouple
C(W5) Thermocouple
D(W3) Thermocouple
E Thermocouple
G(W) Thermocouple
J Thermocouple
K Thermocouple
L Thermocouple
N Thermocouple
R Thermocouple
S Thermocouple
T Thermocouple
U Thermocouple
Stability
± 0.015% of Full Scale Reading / °C - Input Typical: Pt100, Ni 100, Ni 120, Cu 100, Cu 53
± 0.025% of Full Scale Reading / °C - Process Input: ohms
± 0.04% of Full Scale Reading / °C - Process Input: 50 mV, 200 mV, 1 V, 10 V, mA
± 0.05% / °C - Process Input: Slide Wire
± 0.05% of Full Scale Reading / °C - Input Typical: K, J, E, C(W5), D(W3), G(W)
± 0.08% of Full Scale Reading / °C - Input Typical: N, L, U
± 0.10% of Full Scale Reading / °C - Input Typical: R, S, B
± 0.15% of Full Scale Reading / °C - Input Typical: T
Current Output: ± 5 μA / °C
Output Voltage: ± 1 mV / °C
Storage Temperature
-40° to 85° C (-40° to 185° F)
Supply Voltage
11-30 Vdc, 24 V Nominal - Supply in Sink Mode
20-240 Vac, 50/60 Hz
20-240 Vdc
Temperature Effect
0.015° C/Ohms - RTD Lead Effect
Temperature Range
-200° to 2,300° C (-328° to 4,172° F)
Cold Junction: -20° to 70° C (-4° to 158° F)
Turn-On Time
Start Up Time: < 3 seconds
Voltage
Input: ± 1 V
Input: ± 10 V
Input: ± 200 mV
Input: ± 50 mV
Output: 0-10 V