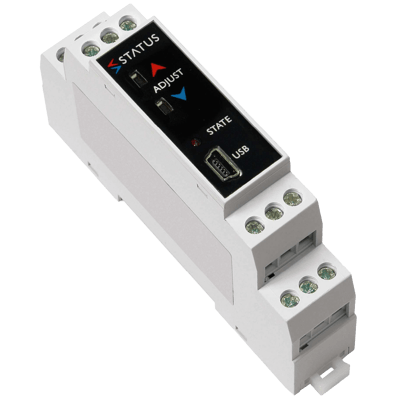 Images are representations only.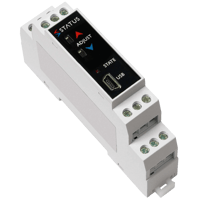 The SEM1610 is the next generation DIN rail mounted temperature transmitter from Status Instruments. 

It has been designed to accept most common process and temperature sensor inputs and provide the user with a standard two wire (4-20) mA output signal. 

Galvanic isolation is provided between input and output and all temperature ranges are linear to temperature. 

Designed for ease of use, our latest USB interface is fitted for quick and easy configuration. Just connect a standard USB cable between the SEM1610 and your PC. 

Using our free configuration software, your PC will automatically upload the existing configuration data and guide you through any changes you wish to make. 

To further help save time, the SEM1610 does not need to be wired to a power supply during the configuration process, it is powered via the USB interface from your PC.
Specifications
Accuracy
± 0.008 mA
± 0.04 mV
± 0.1° C (± 0.18° F) / ± 0.05% of Reading
± 0.5° C (± 0.9° F) ± 0.1% of Full Scale Range
0.1% of Full Scale Range ± 0.5° C (± 0.9° F)
Calibration Accuracy: ± 5 µA
Loop Ripple: 0.03% of Full Scale Range
Ambient Temperature Range
Operating: -20° to 70° C (-4° to 158° F)
Approvals & Certifications
Cable Length
0.008 feet (0.0025 Meter)
Humidity
10 to 95% Relative Humidity, Non-Condensing
Input
High Range: 20 mA
Low Range: 4 mA
Isolation
Galvanic Isolation: Input to Output Tested at 500 Vdc
Working Galvanic Isolation: 48 Vdc
Output
Signal Range: 4-20 mA
Supply Ripple Rejection: <± 5 µA Error at 1 Vrms 50 Hz Ripple
Response Time
< 500 milliseconds to Reach 95% of Final Value
Sensitivity
Supply Ripple Rejection <± 5 µA Error at 1 Vrms 50 Hz Ripple
Supply Sensitivity: 0.05 µA / °C
Sensor, Probe Type
E Thermocouple
J Thermocouple
K Thermocouple
N Thermocouple
Pt100
R Thermocouple
S Thermocouple
T Thermocouple
Stability
± 0.005% of Full Scale Range / °C
± 0.01% of Full Scale Range / °C
± 5 μA / °C
Storage Temperature
-40° to 85° C (-40° to 185° F)
Supply Voltage
11-30 Vdc
24 V Nominal Giving, Maximum
Temperature Range
-200° to 1,760° C (-328° to 3,200° F)