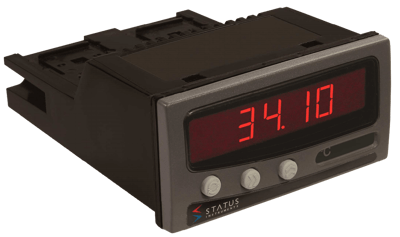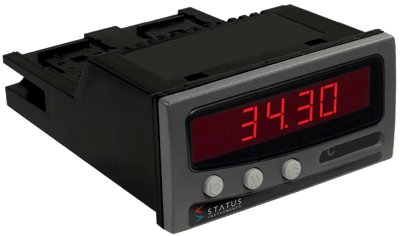 Images are representations only.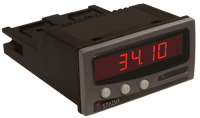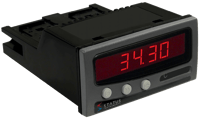 The DM3430 is a true RMS current and voltage panel meter suitable for measuring AC or DC signals.

It has a four digit high intensity LED display that can be set to show a fixed number of decimal places with 'auto-rounding' to always show the maximum resolution. 

It is highly accurate and designed to measure AC or DC voltages up to 550 Volts or currents up to 6 Amps.
Features
Accurate true RMS reading
Galvanic isolation to 3.5 KV
IP65 front panel
Plug and play "POD" output options
RS-485 Serial modbus
UL approved
Specifications
Accuracy
Isolated Re-Transmission: 0.07% of Full Scale
Output Options - AC Input: 0.1% of Reading ± 0.1 FSD
Output Options - DC Input: 0.1% of Full ScaleD
Alarm
High
Low
Off: Alarm Function Inactive
Test
Ambient Temperature Range
0° to 60° C (32° to 140° F)
Approvals & Certifications
EMC: Emissions (BS EN 50081-1), Susceptibility (BS EN 50082-2)
IEC Pollution Class 2
UL 94VO
Communication
Baud Rate: 19,200 / 1,200 bit/sec
Baud Rate: 9600 bit/sec
Half-Duplex 2-Wire or 4-Wire - Physical Layer
Modbus RTU
RS-485 - Physical Layer
Current
< 3 µA - Ripple
± 6 A
0 to 23 mA to Isolated Re to transmission
6 A
Electrical Connectors
2-Wire / 4-Wire
Screw Terminal - Termination
Electrical Contacts
2 Changeover Relays Common Wiper
Electrical Rating
Dual Relay Alarm - AC, Maximum
Dual Relay Alarm - DC, Maximum
Frequency
50/60 Hz
Input Impedance: 0 to 20 kHz
Humidity
10 to 90% Relative Humidity, Non-Condensing
Input Impedance
0.02 ohms - 6 A Range
1 MegaOhms - 60 V Range
10 MegaOhms - 550 V Range
Isolation
3.5 kV - Breakdown
500 Vac - Breakdown (Isolated Re-Transmission)
Materials of Construction
Operating Temperature
-30° to 60° C (-22° to 140° F)
Power
AC: 1,250 VA, Maximum
DC: 150 W, Maximum
Power Supply
Switch Mode S1: 90-252 Vac
Switch Mode S2: 20-35 Vdc
Power Supply Effect
Isolated Re-Transmission - Voltage Effect: 0.2 µA/V
Resolution
0.002% of FSD - A/D
0.017% of FSD - Display
102 dB - CMRR
33 Hz - Reading Rate
Storage Temperature
-50 to 85° C (-58° to 185° F)
Supply Voltage
Dual Relay Alarm - Maximum
Isolated Re-Transmission - Maximum
Voltage
± 550 Vac
± 60 Vdc
550 Vdc
60 Vac