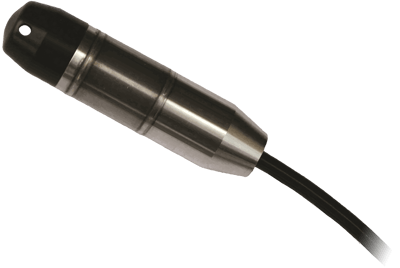 Images are representations only.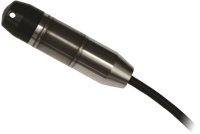 The PTX20 is a high quality level transmitter providing a 2-Wire (4-20) mA output over a wide pressure range. 

The piezoresistive element provides excellent accuracy and stability in an all welded stainless steel housing. A titanium housing is available on request for more aggressive process media. 

The body of the product is oil filled and coupled with high accuracy electronics, this enables the product to maintain a very high level of accuracy and temperature stability when used with high temperature processes. 

There are open and closed versions to choose from, and also a ballast weight can be specified too. 

Measurement ranges of any value between 1 mH2O to 250 mH2O can be ordered making the PTX20 a very versatile product suitable for many applications.
Specifications
Accuracy
≤ ± 0.25% of Full Scale (Standard) - Zero Based Non-Conformity According to DIN16086, Including Hysteresis & Repeatability,
Total Error Band: ± 0.7% of Full Scale Typical > 0.5 to 25 bar at -5° to 50° C (23° to 122° F)
Total Error Band: ± 1% of Full Scale Typical 0.1 to 0.5 bar And, Maximum
Total Error Band: ± 1.5% of Full Scale, Maximum
Total Error Band: ± 2% of Full Scale Typical 0.1 to 0.5 bar at -5° to 80° C (23° to 176° F)
Total Error Band: ± 2.5% of Full Scale, Maximum
Approvals & Certifications
EN 55022 - Emission, Class B
EN 61000-4-2 - Generic Immunity
EN 61000-4-3 - Electrostatic Discharge
EN 61000-4-4 - Fast Transients (Burst)
EN 61000-4-5 - Surge
EN 61000-4-6 - Conducted Radio-Frequency
Approvals & Certifications
ATEX II 1D Ex Iad 20 IP6x T145 to T70° C, II 1 G Ex Ia IIB/IIC T3 to T6 - Gas/Dust
Burst Pressure
≥ psi: 2,900 (kPa: 20,000, bar: 200)
Electrical Protection
Reverse Polarity
Short Circuit
Power Supply Effect
Typically < 0.05% of Full Scale - Supply Voltage Influence
Pressure Range
bar: 0 to 24.55
kPa: 0 to 2,455
meter WC: 0 to 250
psi: 0 to 356
Process Temperature
-5° to 80° C (23° to 176° F)
Resistance Effect
< 0.05% of Full Scale - Load Resistance Influence
Response Time
< 1 millisecond / 10 to 90% of Full Scale
Stability
2 to 25 bar
0.5 to 2 bar And, Maximum
< 0.5% of Full Scale Typical for 0.1 to 0.5 bar
< 4 Mbar, Maximum
Storage Temperature
-10° to 80° C (-14° to 176° F)
Supply Voltage
9-30 Vdc - Atex Version
9-33 Vdc