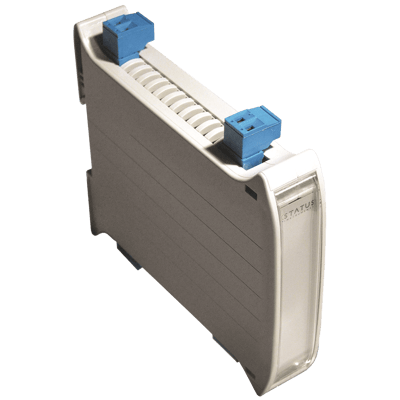 Images are representations only.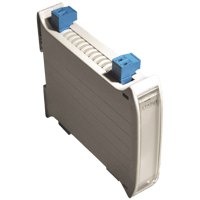 The SEM1801/2XR 'smart' transmitter is designed for use with RTD or Slidewire sensors and converts the sensor signal into an industry standard (4 to 20) mA loop-powered output. Pt100, 500, 1000, Ni, Cu sensors and Slide wire sensors up to 100 K Ohms can be accommodated. 

Other sensor characteristics or your own 22 point linearisation characteristic (for slidewire or linear resistance) can be downloaded into the product enabling it to be adapted exactly to your application. 

The SEM1801/2XR is approved to ATEX and IECEx standards allowing for use in hazardous area applications
Specifications
Accuracy
0.2° C (0.36° F) + (°0.05% of Reading) + (Sensor)
Output: (mA Out/2,000) or 5 µA whichever is greater, Drift 1 µA / °C
Slide Wire: 0.1%
Ambient Temperature Range
10° to 30° C (50° to 86° F)
Approvals & Certifications
ATEX
CE BS EN 61326
IECEx
Burn-Out
Downscale - 3.8 mA
Upscale - 21.5 mA
Communication
Baud Rate: 1,200 bit/sec
USB 2.0
Current
Excitation Current: < 200 μA
Electrical Connectors
Screw Terminals 2.5 mm, Maximum
Environmental Protection
Hazardous Area
IP65
Non-Hazardous Area
Humidity
10 to 90% Relative Humidity, Non-Condensing
Operating Temperature
-40° to 70° C (-40° to 158° F)
Output
2-Wire 4-20 mA Current Loop
Power
< 1 W Full Power Per Channel
Resistance
Maximum
Resistance RTD Input: 10 to 500 ohms ± 0.055 ohms
Resistance RTD Input: 2,500 to 10,500 ohms ± 10 ohms
Resistance RTD Input: 500 to 2,500 ohms ± 0.5 ohms
Resistance Effect
Lead Effect: 0.002° C/Ohms
RTD Type
Cu100
Cu1000
Cu53
Ni100
Ni1000
Ni120
Ni507.5
Ni604
Pt100
Pt1000
Pt500
Sensor, Probe Material
Sensor: Platinum
Sensor: Silicon
Storage Temperature
-50° to 70° C (-58° to 158° F)
Supply Voltage
Loop Supply: 10-30 Vdc Per Channel
System Requirements
USB Configurator
Windows XP
Temperature Range
0° to 100° C (32° to 212° F)
Sensor RTD: -200° to 750° C (-392° to 1,382° F)
Thermal Drift
(0 to 500) ohms 0.013 ohms / °C, (500 to 2,500) ohms 0.063 ohms / °C, (2500 to 10,500) ohms 0.27 ohms / °C
Update Time
160 milliseconds
Warm-Up: 2 minutes