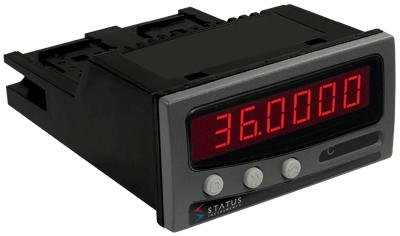 Images are representations only.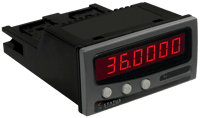 The DM3600 is an intelligent digital panel meter that can accept inputs from a wide variety of sensors and display the signal digitally.

In addition, it has the facility to accept up to two option 'Pods' which can be either isolated (4 to 20) mA re-transmission or two alarm relays. The DM3600 is available in two models. The DM3600U which is a universal input panel indicator and the DM3600A, a universal panel indicator with totaliser functions.

All functions are programmable via the integral front panel keys or via the optional RS-485 serial communications port using the Modbus protocol.

The DM3600 supports TFML (Transfer Function Module Library) i.e the ability to download custom functionality by means of standard modules available from the web site. This allows pre-written or custom control functions to be quickly and easily incorporated.

The DM3600A totaliser function enables non-volatile storage of the integrated total to be maintained within the unit, even after loss of power. Output options can be selected to operate on Process Variable (PV) or Total.
Specifications
Accuracy
Cold Junction Error: ± 0.5° C (± 0.9° F)
Cold Junction Tracking: 0.05° C / °C
Current Input: 0.05% of Full Scale ± 0.05% of Reading
Isolated Re-Transmission: 0.07% of Full Scale
RTD: 0.1° C (32.18° F) ± 0.05% of Reading
Voltage Input / RTD: ± 0.04% of Full Scale or ± 0.04% of Reading or ± 0.5° C (32.9° F), whichever is greater
Approvals & Certifications
EMC BS EN 61326, BS EN 61010-1
IEC707 FVO
UL 94VO
Communication
4-Wire or 2-Wire Half-Duplex RS-485
RS-485 Modbus Communication Protocol
Consumption
Power Consumption: 10 VA (Worst Case) 6 VA Typical
Current
0 to 23 mA
Excitation Current: 1 mA
Ripple Current: < 3 µA
Electrical Connectors
5-Way Tension Clamp Connector
Termination: Screw Terminal
Electrical Contacts
2 x Changeover Relays with Common Wiper
Humidity
10 to 90% Relative Humidity
Input
± 10 mA
± 100 mV
± 20 mA
-10-10 V
4-20 mA
Input Impedance
1 MegaOhm - Voltage
20 ohms - Current
Interface Connection
8 Way RJ45 Connector (Supplied with Matching Plug & 1 Meter Cable)
Load
Dual Relay Alarm / Pulse - AC, Maximum
Dual Relay Alarm / Pulse - DC, Maximum
Materials of Construction
Operating Temperature
-30° to 60° C (-22° to 140° F)
Operating Temperature - Sensor
-200° to 850° C (-328° to 1,562° F)
Operation
Electrical Life: 100,000 Operations at Rated Load
Mechanical Life: 50 Million Operations
Output
0-10 V
0 to 100 mA (Active or Passive) - Isolated Re-Transmission
Power
Dual Relay Alarm / Pulse - AC, Maximum
Dual Relay Alarm / Pulse - DC, Maximum
Power Supply
20-35 Vdc
90-264 Vac (50 to 60) Hz
Resistance Effect
0.002° C/Ohms - Lead Resistance Effect
Sensor, Probe Type
B Thermocouple
E Thermocouple
J Thermocouple
K Thermocouple
L Thermocouple
N Thermocouple
RTD
R Thermocouple
S Thermocouple
T Thermocouple
Storage Temperature
-50 to 85° C (-58° to 185° F)
Supply Voltage
30 V (Passive Mode) - Maximum
Temperature Range
Cold Junction Range: -20° to 60° C (-4° to 140° F)
Thermal Drift
Current Input: 0.02% / °C
RTD - Span: 0.002% / °C
RTD - Zero: 0.004 ohms / °C
RTD - Zero: 4 µV / °C
Voltage Input / RTD Span: 0.01% / °C
Voltage
Dual Relay Alarm / Pulse - AC, Maximum
Dual Relay Alarm / Pulse - DC, Maximum