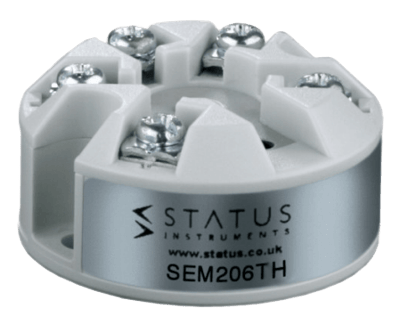 Images are representations only.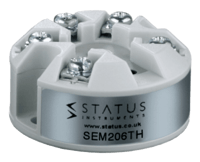 The SEM206/TH is a "smart" in head transmitter that accepts thermistor temperature sensors and converts the sensor output over a configured range to a standard industrial (4 to 20) mA transmission signal. The output signal is linear to temperature.

A variety of thermistor types are available when using USB SpeedLink configuration software. Please consult your supplier for custom thermistors.

In addition to the PC configuration feature, simple push button operation allows the user to select the desired temperature range manually, by either simulating the thermistor temperature with a resistance box or setting the thermistor sensor to the required calibration point and pressing button to store at both 4 mA and 20 mA points. 

The SEM206TH in head transmitter incorporates the latest digital technology to ensure accurate drift free performance.
Specifications
Accuracy
(mA Output/2,000) or 5 µA whichever is greater
Input: ± 0.2% of Reading Typical
Input: ± 0.2° C (± 0.36° F) Typical
Approvals & Certifications
EMC - BS EN 61326
IEC 61000-4-2, 61000-4-3, 61000-4-4, 61000-4-5
Humidity
Ambient Humidity: 10 to 90% Non-Condensing Relative Humidity
Operating Temperature
Ambient Operating Voltage: -40° to 85° C (-40° to 185° F)
Output
< 3.75 mA Minimum
21.5 mA - Maximum
4-20 mA, 2-Wire Current Loop
Response Time
1 second
Start Up: 2 seconds (I Out < 4 mA During Start Up)
Sensor, Probe Type
Sensor Typical: Thermistor
Storage Temperature
Ambient Storage Temperature: -50° to 90° C (-58° to 194° F)
Update Time
1 Minute to Full Accuracy