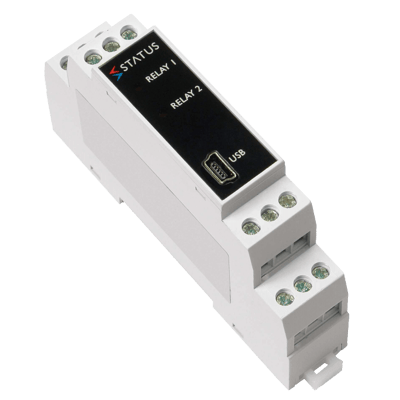 Images are representations only.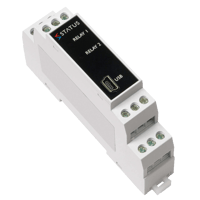 The SEM1636 monitors a (4 to 20) mA loop and provides two independent change over trip contacts set to alarm at any point within the (4 to 20) mA range. 

The SEM1636 requires no additional power connection as power is derived from the (4 to 20) mA loop. Relay outputs are independently configured for action and set point, dead band. 

Six actions are provided normal High/Low/Deviation and inverted High/Low/Deviation. Additional math, filter and user linearisation functions are provided.
Specifications
Accuracy
± 0.02% of Full Scale Deviation
Ambient Temperature Range
Configuration Ambient: 10° to 30° C (50° to 86° F)
Approvals & Certifications
CE: BS EN 61326 BS EN 61010-1 Installation Category II Pollution Degree
Circuit Protection
Protect with Externally Fitted 2 A (T) Fuse: Relay 1 & Relay 2
Reverse Connection & Overvoltage: Relay 1
Communication
Baud Rate: 19,200 bit/sec
USB 2.0
Connection Style
Screw Terminals 2.5 mm, Maximum
Electrical Contacts
Form C Relay Contacts: Relay 1 & Relay 2
Electrical Rating
250 Vac Rms at 1 A: Relay 1 & Relay 2
30 Vdc at 1 A Resistive Load: Relay 1 & Relay 2
Environmental Protection
IP65 - DIN Rail Enclosure Offering Protection
Humidity
10 to 90% Relative Humidity, Non-Condensing
Input
± 50 mA - Maximum
3.8-22 mA - Operating
4-20 mA - Current Loop
5 V, Maximum
Isolation
3,750 Vac Relay 1 to Inputs, Relay 1 to Relay 2
Materials of Construction
Polyamide 6.6 Self Extinguishing
Operating Temperature
-20° to 70° C (-4° to 158° F)
Storage Temperature
-30° to 70° C (-22° to 158° F)